Global Bone Densitometers Market is estimated to Grow at a CAGR of 4.15% During the Forecast Period (2021-26) | DelveInsight
DelveInsight's "Bone Densitometers Market Insights, Competitive Landscape and Market Forecast-2026" report delivers an in-depth understanding of the Bone Densitometers, historical and forecasted epidemiology as well as the Bone Densitometers market trends in the United States, EU5 (Germany, Spain, Italy, France, and United Kingdom) and Japan.
Recent developmental activities in Bone Densitometers market
According to DelveInsight, the Bone Densitometers market will increase at a CAGR of 4.15% percent during the forecasted period from 2021 to 2026, to reach USD 894.82 million by 2026.
EchoLight made its formal debut in India on June 16, 2021, by signing a commercial deal with an important local partner in Chandigarh, in northern India, for the distribution of the whole product line throughout the Indian territory.
Hologic, Inc. established a cooperation with DEXA+ to market the DXA system for body composition measurement on May 30, 2019. The collaboration enabled Hologic to broaden its expertise in body composition evaluation as well as the reach of its market-leading DXA technology.
For more insights into Bone Densitometers, get the snapshot of the key highlights entailed in the Bone Densitometer Devices Report
Bone Densitometer Devices Overview
Bone densitometry, also known as dual-energy x-ray Absorptiometry, DEXA or DXA, employs a very low dosage of ionizing radiation to create images of the inner body (often the lower (or lumbar) spine and hips) in order to assess bone mineral content and density. It is often used to diagnose osteoporosis and to determine a person's risk of having osteoporotic fractures. DXA is a simple, rapid, and noninvasive procedure. It is also the most widely used and accepted way of diagnosing osteoporosis.
There are many risk factors for osteoporosis, some of them include:
Post-menopausal women not taking Estrogen
Advancing age, women over 65 and men over 70
Smoking
Family history of hip fracture
Using steroids long-term or certain other medicines
Certain diseases, including rheumatoid arthritis, type 1 diabetes mellitus, liver disease, kidney disease, hyperthyroidism, or hyperparathyroidism
Excessive alcohol consumption
Low BMI (body mass index)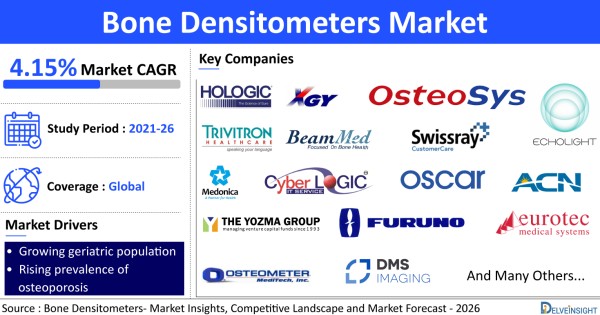 Interested in knowing how the Bone Densitometer Market will be growing by 2026? Click to get a snapshot of Bone Densitometer Market Analysis
Osteoporosis causes substantial morbidity and costs $13.8 billion annually in the United States. Measurement of bone mass by densitometry is a primary part of diagnosing osteoporosis and deciding a preventive treatment course. Furthermore, the approval of bone densitometers made by significant firms such as General Electric Company, Hologic, Inc., and OSI Systems, Inc., as well as others operating in the region, will aid in the market expansion.
Geography Wise- Bone Densitometers Market Analysis
The Bone Densitometers market is analyzed geographically for North America, Europe, Asia-Pacific, and the Rest of the World. North America is predicted to account for the highest part of the Global Bone Densitometers market, accounting for 48 percent. Factors such as the increased frequency of osteoporosis and growing prevalence of disease operate as risk factors for poor bone density in the population. Additionally, supporting government regulations promoting adequate osteoporosis care, as well as an increase in sedentary lifestyle, are factors driving bone densitometer market expansion.
The Bone Densitometers market is experiencing positive market growth as a result of factors such as the rising prevalence of osteoporosis around the world, the rising prevalence of rheumatoid arthritis and cystic fibrosis, the growing population of the elderly, high adoption of densitometers, and a rising number of products specific to bone densitometers in development with the potential to enter the market in the coming years.
Bone Densitometers Market Segmentation
By Technology
Axial Bone Densitometry
Peripheral Bone Densitometry
Peripheral Quantitative Computed Tomography (pQCT)
Quantitative Ultrasound
Others
By End-User
Hospitals
Diagnostic Centers
Others
By Geography
North America
Europe
Asia-Pacific
Rest of the World
Bone Densitometers Segment Analysis
During the forecast period (2021-2026), the Central Dual-Energy X-Ray Absorptiometry (DEXA) is expected to have the largest share in the Bone Densitometers Market in the Product sector. This technology is regarded as the gold standard for bone density analysis due to the benefits associated with it, such as the amount of radiation used in these systems being significantly lower than that used in conventional X-rays and other radiographic technologies, thereby vastly increasing their safety profile for repetitive scanning. DEXA has various benefits over Peripheral Bone Densitometers, including greater accuracy and fewer mistakes.
Another advantage of DEXA is the widespread use of these densitometers based on this technique. The increased adoption rate can be ascribed to DEXA bone densitometers meeting a variety of physician criteria. As a result of the benefits associated with Axial Bone Densitometers, this product category is predicted to create a large revenue share, thus adding to the overall growth of the worldwide Bone Densitometers market during the forecast period.
Bone Densitometers Market Scope
Study Period: 2018-2026
Key Companies: General Electric, Hologic Inc., Xingaoyi Medical Equipment Co. Ltd., Swissray, Echolight S.p.a, Eurotec Medical Systems srl, Trivitron Healthcare, BeamMed Ltd., Scanflex Healthcare AB, Medonica Co. LTD, OsteoSys Corp, CyberLogic, Inc., Oscare Medical Oy, L'Acn Srl., Shenzhen Xray Electric Co., Ltd., YOZMA BMTech Co., Ltd., Nanoomtech Co., Ltd., FURUNO Electric Co., Ltd., Osteometer MediTech, Inc. (OSI Systems, Inc.), Diagnostic Medical Systems Group and others.
Segmentation: By Technology, By End-User and by Geography
Geography Covered: North America, Europe, Asia- Pacific, Rest of the World (Middle East, Africa, and South America)
Table of Contents
Bone Densitometers Market Report Introduction
Bone Densitometers Market Executive Summary
Regulatory and Patent Analysis
Bone Densitometers Market Key Factors Analysis
Bone Densitometers Market Porter's Five Forces Analysis
COVID-19 Impact Analysis on Bone Densitometers Market
Bone Densitometers Market Layout
Bone Densitometers Market Company and Product Profiles
KOL Views
Project Approach
About DelveInsight
Disclaimer & Contact Us
About Delveinsight:
DelveInsight Business Research is a leading Market Research, and Business Consultant focused purely on Healthcare. It helps pharma companies by providing them with end-to-end services to solve their business problems.
Media Contact
Company Name: DelveInsight Business Research LLP
Contact Person: Ankit Nigam
Email: Send Email
Phone: +19193216187
Address:304 S. Jones Blvd #2432
City: Albany
State: New York
Country: United States
Website: https://www.delveinsight.com/report-store/bone-densitometers-market