Sharing The Main Advantages Of Diatomaceous Earth (I)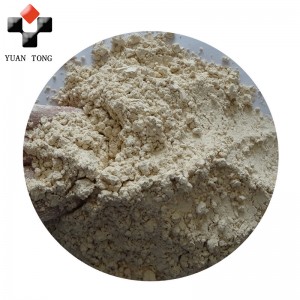 Diatomaceous earth coating additive products, with large porosity, strong absorption, stable chemical properties, wear resistance, heat resistance and other characteristics, can provide excellent surface properties, volume, thickening and improve adhesion for coatings. Due to its large pore volume, it can shorten the drying time of the coating film. It can also reduce the amount of resin used and reduce costings. The product considered to be a good cost-effective coating matting powder products, has been used by many large international paint manufacturers as a designated product, widely used in latex paint, interior and exterior wall coatings, alkyd resin paint and polyester paint and other coating systems, especially suitable for the production of architectural coatings. products applied in coatings, paints, can balance the surface gloss of the coating film, increase the wear resistance and scratch resistance of the coating film, dehumidification, deodorization, but also purify the air, sound insulation, waterproof and heat insulation, good permeability characteristics.
Diatomaceous earth does not contain toxic chemicals
In recent years, many new indoor and outdoor coatings and decoration materials with diatomaceous earth have become more and more favored by domestic and overseas consumers . In china Diatomite is a potential development of diatomaceous earth indoor and outdoor coatings of a natural material, does not contain harmful chemicals, in addition to non-combustible, sound insulation, waterproof, light weight and heat insulation and other characteristics, but also dehumidification, deodorization, purification of indoor air and other effects, is an excellent environmental protection indoor and outdoor decoration materials
Jilin Yuantong Mining Co., Ltd. now has 42 employees, 18 professional and technical personnel with high and intermediate titles engaged in diatomaceous earth development and research, and more than 20 sets of advanced diatomaceous earth special testing instruments at home and abroad, and the testing items include crystalline silicon content, SiO2, A12O3, Fe2O3, TiO2 and other chemical components of diatomaceous earth products; Product particle distribution, whiteness, permeability, cake density, sieve residue, etc.; Food safety requirements for lead, arsenic and other trace heavy metal elements, soluble iron ions, soluble aluminum ions, PH value and other items of detection.
The above is all the content shared by Jilin Yuantong food grade diatomaceous earth manufacturers for everyone. if you want to know more information about food grade diatomaceous earth, calcined diatomaceous earth, diatomaceous earth filter aids, diatomaceous earth manufacturers, companies, etc., please to log on to our official website:
Food Grade Diatomite, Wine Diatomite, China Diatomite Powder – Yuantong (dadidiatomite.com)
Media Contact
Company Name: Jilin Yuantong Mineral Co.,Ltd
Email: Send Email
Phone: 0086-13051121576
Country: China
Website: https://www.dadidiatomite.com/