Last Spray Launches Two New Disinfection Fogger Machines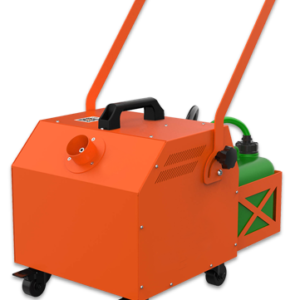 "LAST SPRAY 360; LAST SPRAY Electric Sprayer: Two New Fogger Machines that kill virus, mycoplasma coronavirus and bacteria instantaneously."
Designing and modeling fogger machines is not a child play. However, LAST SPRAY, a company that is popularly renowned for making durable yet affordable disinfecting machines, is making simple to operate yet highly effective sprayer and fogger machines available. These machines are primarily designed for business owners, homeowners, offices, builders, hotels, restaurants, malls, places of worship, business owners etc., who are aiming to disinfect their facilities. The foggers can also be used in hen-house, sheepfold, hog-pen and cowshed. The two products can be ordered on https://disinfectingmachines.com, the company's official website.
In addition, with LAST SPRAY Fogger Machines, each user stands a chance of getting sprayers that are handy yet heavy-duty for large space, elegant, power-efficient and minimize disinfectant wastage. To ensure that for everyone who needs a fogger machine, LAST SPRAY now announces the launch of two new foggers – LAST SPRAY 360 Sprayer and LAST SPRAY Electric Sprayer. These two tested and proven sprayers are the new additions to LAST SPRAY products. These Fogger Machines are perfect for large space, so no pathogen has a chance of escaping.
LAST SPRAY 360 is a sprayer that has been carefully built to wipe out every type of unwanted pathogen one can think of, as the sprayer can be used to wipe out bacteria, fungus, virus, mycoplasma, coronavirus and many more. Furthermore, LAST SPRAY 360 is a sprayer that instantly exterminates pathogens wherever they might be – be it on the surface, in the air, or on an object. What sets this sprayer apart from other sprayers is the fact that it is so easy to operate as it only has one button start. It also requires less of human manipulation, helping the user to save valuable time and energy. LAST SPRAY 360 also maximizes disinfectant as wastage has been significantly addressed.
Every user of LAST SPRAY 360 stands a chance of getting the following benefits, as the Sprayer has the ability to enable:
Fast dispersion – the products allow long-lasting suspension, all-pervasive.
Easy Operation, Labor-saving, No risk for Cleaner
Instant disinfectant and synergist – LAST SPRAY 360 ensures the best effect.
More efficient usage of disinfectant – LAST SPRAY 360 effectively maximizes the use of disinfectant as it does not give room to moist or wet.
Low noise
Lower power consumption etc.
Furthermore, the second product is known as LAST SPRAY Electric Sprayer. This is a sprayer that can be used for sanitation, bug control and epidemic prevention in any private or public place. LAST SPRAY Electric Sprayer is what the world really needs most at this period of COVID-19 pandemic. This is because health centers, restaurants, churches, malls, hotels, houses, schools and other public places can use LAST SPRAY electric for large scale disinfestations and fumigation. One thing that makes LAST SPRAY Electric Sprayer unique is the fact that it is an ideal electric sprayer with reliable performance and convenient use. Also, LAST SPRAY Electric Sprayer requires little power as it can be used with a voltage of 110v. It also has a big capacity for disinfectant as it is built with a tank capacity of 7L. LAST SPRAY Electric Sprayer can spray 600-1000w Spray range, making it the best electric sprayer in the market.
Media Contact
Company Name: LAST SPRAY
Contact Person: Media Relations
Email: Send Email
Phone: 703-239-3932
Address:14101 Parke Long Court Suite 202
City: Chantilly
State: VA 20151
Country: United States
Website: https://disinfectingmachines.com