WoW Day Spa Launches Headicure Package, Now Offers Hair Treatment, Face Massages, and Facial Therapy
As the largest salon in Picayune, Mississippi, WoW Day Spa is proud to be a brand that continues to expand its services and contribute to the beauty and wellness industry in the United States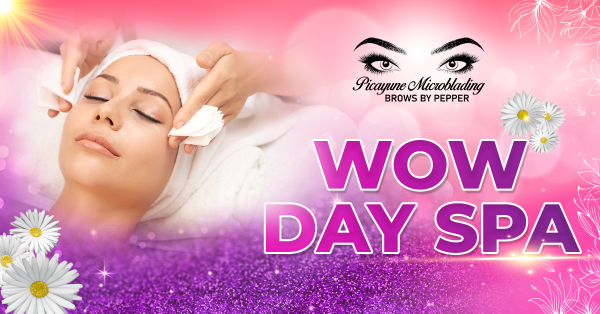 WoW Day Spa, a beauty salon and brand in Picayune, Mississippi, today announced the expansion of its brand with the debut of its Headicure service. Focused on personalized wellness, the spa has been the go-to salon in Mississippi for rejuvenating treatments, signature experiences, exceptional services, and result-driven therapy sessions since its establishment. Today, the brand is pleased to introduce its Headicure package which will offer thorough head massages including facial treatments, face massages, hair treatments, etc.
"We are pleased to be evolving as a brand and improving the beauty and wellness industry in the United States," explained Pepper Poe, the CEO of WoW Day Spa. "We want to offer a place where everyone that walks in with their individual needs are met. From pedicures to manicures to skin therapy to hair treatments, we want to be a one-stop beauty brand. We understand that no two customers are the same, and this understanding is the foundation for our curation of unique experiences for every one that walks into our spa."
WoW Day Spa offers customized wellness solutions to help each customer achieve the look of their dreams. The Headicure service at the spa is a lavish hour of intensive care for the head. Customers who order for this service will receive a pressure point scalp and face massage, shampoo conditioning and face scrub, and a mini facial.
In addition to the Headicure service, WoW Day Spa also offers lashes, pedicure, brows, manicures, microblading & permanent makeup, and skin treatments and services. The spa has a long list of curated services in these categories as it continues to take steps to achieving its vision of becoming a hotspot for all things beauty and wellness.
Interestingly, WoW Day Spa offers memberships to customers which allows them to enjoy discounts and amazing offers. The spa is located at 115 Hwy 11 S Picayune ms 39466 which is 45 minutes from Hattiesburg MS, New Orleans LA, Mississippi Gulf Coast and 1 hour 45 minutes from Mobile AL & Baton Rouge LA.
Pepper will also be opening the Chic Brow Academy on October 3rd, which will herald the next generation of PMU artists to the beauty scene. The Chic Brow Academy is a learning facility that will focus on teaching microblading and permanent makeup to students. Picayune Microblading, which was the name of Pepper's first salon, will serve as the brand name over WoW Day Spa and Chic Brow Academy by Pepper Coe.
For more information, please visit https://wowdayspaofpicayune.com or follow the spa on TikTok, Facebook, Instagram, and YouTube.
About WoW Day Spa
Wow Day Spa is a personalized beauty and wellness brand founded by Pepper Poe. Before establishing WoW Day Spa, Pepper had a full-service salon in Vietnam named Picayune Microblading for over 15 years. After moving to the United States, she opened Wow Day Spa, her permanent makeup salon. Four years later, she has not only become the top-rated microblading expert in the area but also opened a full-service salon again, employing PMU artists, skin specialists, hair stylists, and nail technicians.
To learn more, email [email protected] or call the number 504-533-1947.
Media Contact
Company Name: WoW Day Spa
Contact Person: Scott Poe
Email: Send Email
Country: United States
Website: http://www.wowdayspa.net/