John Morgan Mullen Launches a Road Map into the Future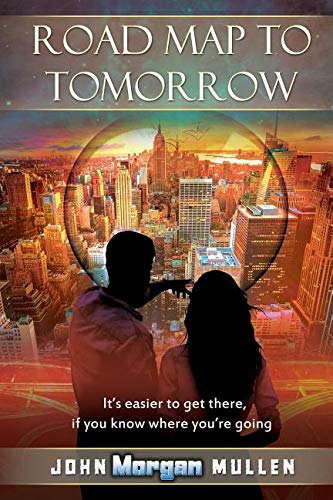 Are you prepared for the imminent technological revolution? Can we make it to the future, without being left behind? John Morgan Mullen in his new book, Road Map to Tomorrow, provides insight and options for your personal roadmap in your world of tomorrow.
Road Map to Tomorrow presents wonderful opportunities that our technology is generating and outlines some pitfalls we need to recognize along the way. The rapid advancements generated by some of the most intelligent individuals as well as advent of quantum computing will open your eyes to the leading innovations, alongside studies and expert opinions that touch on topics from computers to robots, medical science to nanotechnology, transportation to education, employment to politics, and entrepreneurial opportunities.
Mullen gives readers a colorful, exciting and insightful view of how technology will change every aspect of our world. The knowledge generated from reading Road Map to Tomorrow will be empowering, inspiring as well as threatening.
A quote from R.W. Ross perfectly exemplifies Mullen's vision and dreams for his book, "Change how a person thinks, and you will change how they feel. Change how they feel, and you will change how they perform. Change how they perform and you will change the results. Change the results and you will change their lives."
Practical, optimistic and empowering, Road Map to Tomorrow has thoroughly researched what the future holds. It is a manual and guidebook to survive the next generation's challenges and will allow readers to be prepare of their next move. Those who will read this book will be better qualified to explore the future.
"My objectives and efforts in writing both of my books is to attempt to motivate the 18 to 30-year-olds to extend some thought as to not only what do you want to do, but also what our future world is going to look like. Technology is developing at a rate that if you do not prepare yourself you will be left behind. I guarantee that they will be better prepared, happier, more productive if they read my book or just listen to the audiobook", says Mullen.
It's Easier to Get There If You Know Where You're Going
Grab your copy of Road Map to Tomorrow on Amazon: https://amzn.to/2YuVBKV
About the Author
John Morgan Mullen owns a real estate development and consulting company specializing in urban infill, adaptive reuse, historic renovations, and community development properties. Morgan has played a major role in the warehouse loft conversion boom and gentrification of many Chicago neighborhoods valued at over $600 million.
Morgan attended Michigan State University, where he earned a BA in communication arts. He was a quarterback for Michigan State University on two National Championship teams in 1965 and 1966. Morgan credits athletics for honing and developing his dedication to hard work, leadership, teamwork, developing a game plan, and knowing your opponent's strengths and weaknesses as well as your own.
Married to his college sweetheart Jill since 1967, Morgan has two children, Todd and Stephanie. He and Jill are grandparents to Jake, Brennan, and Hailey.
Media Contact
Company Name: URLink Marketing | URLink Print and Media
Contact Person: Media Relations
Email: Send Email
Phone: 1-888-980-6523
Address:1603 Capitol Ave., Suite 310
City: Cheyenne
State: Wyoming 82001
Country: United States
Website: www.urlinkpublishing.com/