DentaSonique Toothbrush with Charcoal Cleaning Bristles and Built in UV Sterilization surpasses their goal on Indiegogo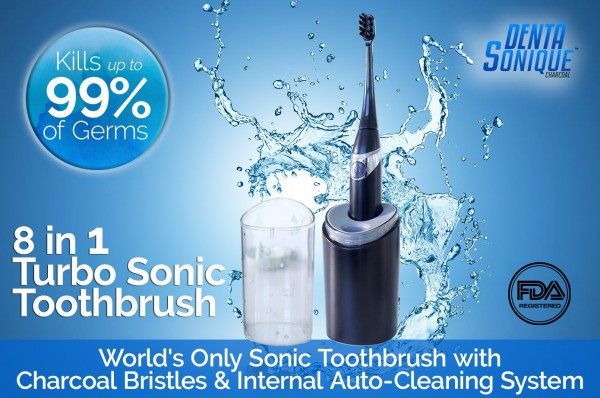 DentaSonique is the world's first Carbon Sonic Toothbrush with an internal auto-cleaning system UV Sterilization, accompanied by charcoal bristles' technology that provides superb cleaning for whiter and healthier teeth. This toothbrush comes with 49,000 Sonic strokes per minute plus automatic drying, so you don't have to waste your time waiting for it to dry up. It has a three-mode smart clean up system- Cleaning mode, Sensitive mode, and Whitening mode, and an ultra-quiet technology which enables you to brush your teeth without any disturbance. Apart from all these features, DentaSonique is a wireless device, which is rechargeable, and comes with a portable built-in case and rinse cup.
Brushing our teeth is the first thing we do when we wake up, and the last thing we do before going to bed. It is crucial to keep our gums and teeth healthy, and to find the right type of toothbrush and toothpaste becomes extremely important, or it can cause us multiple appointments with the dentist and an unmatchable amount of pain. This is where DentaSonique comes to our rescue. This 8 in 1 toothbrush with built-in UV Sterilization and a powerful but gentle 49,000 Sonic strokes per minute guarantees you impressive cleaning you don't want to miss.
DentaSonique is made to provide the users with a satisfying and accomplished clean feeling with every brush. Not only does this toothbrush clean your teeth, but it cleans itself too. The UV Light Sterilization and Plaque Defence Protection feature in the toothbrush cleans your brush heads, leaving no room for germs or bacteria which otherwise would have found their way on the surface of your regular toothbrush.
We mostly lose track of time while brushing our teeth and either end up overdoing it, or leaving it unfinished. The "Quadpacer" in DentaSonique helps you deal with this problem by letting you know when you've spent an adequate amount of time while brushing your teeth. DentaSonique's battery can last up to 60 days on a single charge, making it easy to carry anywhere you go.
DentaSonique toothpaste foam system adds to the charm of the toothbrush. When used together, they provide unmatched Dental Hygiene. The toothpaste comes in a 60ml bottle in liquid form, which contains mint extracts to give you a fresh and cool breath feeling. This toothpaste is equipped with qualities that guarantee you whiter and brighter teeth in just 14 days. The toothpaste is loaded with many features including, enamel revival, bad breath reduction, along with many others.
DentaSonique so far has had incredible demand eclipsing their fundraising goal with numerous backers supporting it from around the world. By pre-ordering the product, you can get it at a huge discount of 60% through early rewards. The discounts won't last long, so the time to get in is now.
More information about the product can be found on its Indiegogo page.
Media Contact
Company Name: DentaSonique
Contact Person: Brian
Email: Send Email
Phone: 516-663-0666
Country: United States
Website: www.indiegogo.com/projects/re-invented-3rd-generation-dentasonique-charcoal/x/23114483#/