Interview: Pizzology founder talks about how their restaurant become a city favorite in just a few months of its launch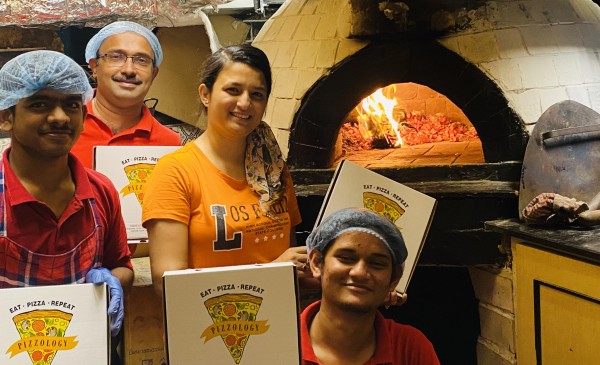 Bangalore based restaurant startup Pizzology is creating waves and impressing their customer base in Electronic City. Launched in November 2019, Pizzology has received rave reviews from the customers, bagging 4.9 stars out of 5 on Google, Swiggy, and Zomato.
Within a few months of its launch, Pizzology became Electronic City's favorite spot to enjoy delicious pizzas in a semi-casual, vibrant and ambient restaurant setting. Despite being hit by the Covid-19 pandemic, like other businesses, Pizzology has managed to stay above break-even, and even plan to expand to 5 more locations in the next three months.
Prajakta, the founder of Pizzology, talks more about her restaurant and how it became such a hit within a short period.
Interviewer: Tell us about your background and education.
Prajakta: I grew up in Mumbai with aspirations to become an air hostess. I fulfilled my dream by working in Vistara, Indigo, and Jet Airways. I love the hospitality industry and putting a smile on the customer's face is the top priority.
Interviewer: What inspired you to start Pizzology?
Prajakta: On our travels, I and my husband (Ajith Govind, a successful entrepreneur in the data analytics field), were walking down the streets of Italy on a cold night. We saw these holes in the wall wood-fire oven pizzerias, which had massive waiting lines. We tasted the pizzas, and we got hooked for life. We realized that we need to bring this joyous revolution to India.
Interviewer: What are the most popular items on the menu?
Prajakta: Customers swear by our Mexican Wave and Veggie Delight Pizzas in the vegetarian lovers. The Ultimate Chicken Delight is our firm favorite with chicken eaters. We also have a massive following for our authentic pepperoni pizzas.
Interviewer: How has Covid-19 impacted your business?
Prajakta: Like every other business, Pizzology has also been affected. During days of lockdown, we saw an increase due to our location in a residential area. Post lockdown, there was a dip, but we are on track to reaching our pre-COVID metrics by September.
Interviewer: On what locations are you planning to expand?
Prajakta: We have identified Kormangala, Indiranagar, JP Nagar, HSR Layout, and BTM layout as the 5 locations. Out of these, we have finalized a couple of spots, and we aim to be online by Mid-August.
Interviewer: Where do you see your restaurant in the next 5 to 10 years?
Prajakta: We have a big vision, and we want to revolutionize the pizza industry in India. In many ways, Blaze Pizza in the US is our inspiration. People realize that wood fire oven pizzas are much tastier, healthier, and nutritious than electric oven pizzas. The end goal is to create a brand free from harmful ingredients, healthy and delicious at the same time.
Instagram: https://www.instagram.com/pizzology_blr
Media Contact
Company Name: Pizzology
Contact Person: Prajakta Mahale
Email: Send Email
Phone: +91-9967898237
Country: India
Website: www.facebook.com/pizzologyindia