Revolutionize Deliveries with Senpex All-in One Smart Ordering Dashboard: Seamlessly Manages and Tracks Last Mile Logistics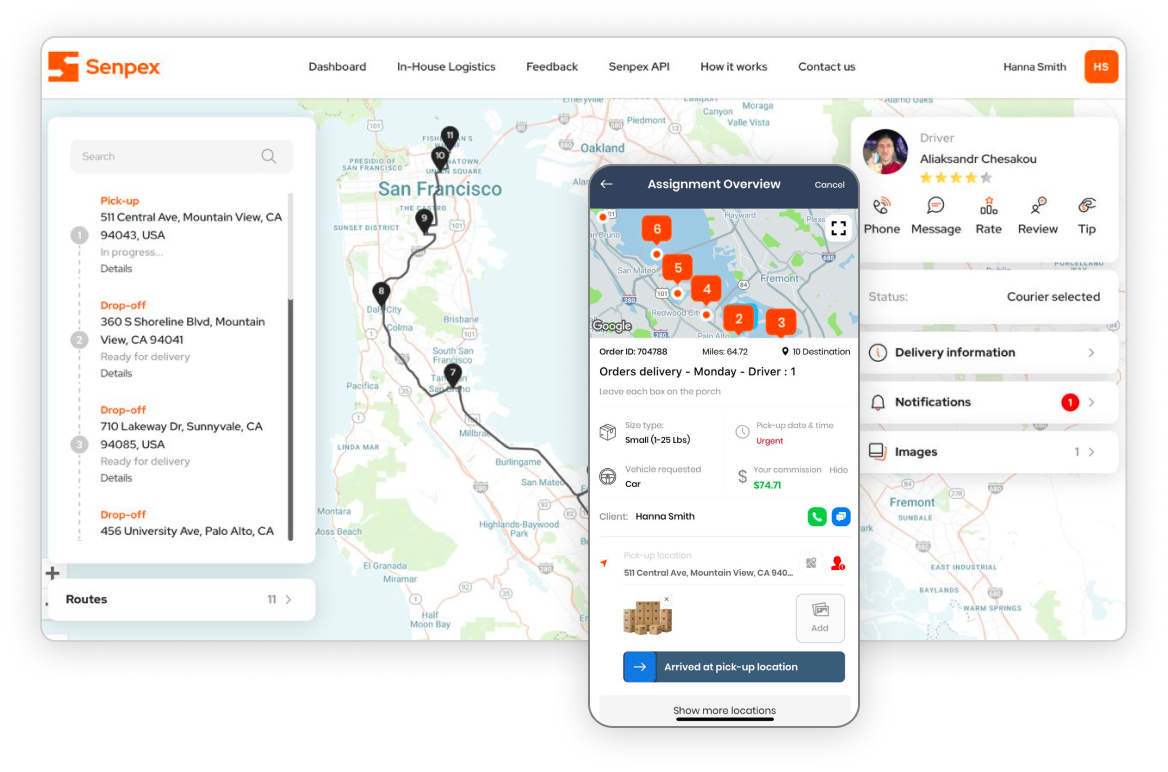 Unlock Efficiency and Control: Elevate Your Last Mile Operations with Senpex's All-in One Smart Ordering Dashboard
Senpex, the industry leader in logistics solutions, is thrilled to announce the launch of its highly anticipated All-in One Smart Ordering Dashboard, designed to transform the way businesses manage their deliveries. With an array of exciting new features and a commitment to customer satisfaction, Senpex empowers the retail, restaurant, food and health industries among others to take ordering into their own hands by optimizing their delivery, streamline operations, and pinpoint their last mile logistics processes.
Customize Your Way to Success: Experience unparalleled flexibility with Senpex's All-In-One Smart Ordering Dashboard. Whether it's urgent, scheduled, repetitive, or bulk deliveries, our intuitive route planner puts the power in your hands. Effortlessly create and customize orders to match your unique requirements. With just a few clicks, seamlessly coordinate and schedule deliveries, ensuring swift and efficient service that sets you apart.
Efficiency Unleashed: Taming Large-Scale Deliveries Made Effortless! We understand the challenges of managing extensive deliveries. That's why Senpex All-In-One Smart Ordering Dashboard offers an exclusive bulk ordering feature. Say goodbye to complexity as our streamlined bulk order process empowers you to place and manage multiple deliveries effortlessly. Unlock valuable time and effort, maximizing efficiency and productivity like never before.
Seize Control: Your Delivery Empire Awaits! Senpex's All-In-One Smart Ordering Dashboard puts you firmly in the driver's seat of your delivery operations. Our user-friendly platform equips you with a comprehensive dashboard, providing real-time tracking and monitoring of every order. Stay informed about the status of your deliveries, proactively address any issues, and keep your customers delighted with timely updates. It's a seamless experience from start to finish, ensuring satisfaction at every turn.
Streamlined Success: Effortless Payments and Order Management! Senpex's All-In-One Smart Ordering Dashboard simplifies the complexities of managing payments and orders. Our dedicated "My Payments" and "My Orders" features allow you to effortlessly track and manage all financial transactions and delivery requests in one centralized location. Streamline your administrative processes, saving invaluable time to focus on what truly matters—propelling your business forward.
Connect, Communicate, Conquer: A Transparent Delivery Experience! Effective communication lies at the heart of exceptional customer service. Senpex's All-In-One Smart Ordering Dashboard presents you with a powerful messaging feature called "Messages." Engage directly with your drivers and customers, staying connected to address concerns and provide real-time updates. Nurture a personalized and transparent delivery experience that leaves a lasting impression.
Tailored for Success: Embrace Corporate Excellence! Senpex understands the unique needs of corporate entities. Our All-In-One Smart Ordering Dashboard offers specialized features for corporate orders, allowing seamless management and tracking across multiple departments or locations. With our dedicated corporate solutions, we ensure your organization's logistics needs are met with unparalleled efficiency and seamless integration.
Efficiency Redefined: Unleash the Power of Integration! Senpex's All-In-One Smart Ordering Dashboard surpasses industry norms. With our API integration, connect your existing systems and processes seamlessly. Simplify order placement and enhance operational efficiency, unlocking a new level of productivity. Embrace the power of integration and optimize your delivery operations with Senpex.
Nationwide Reach, Infinite Possibilities: Deliver Everywhere, Every Time! Senpex's All-In-One Smart Ordering Dashboard enables businesses to extend their reach nationwide. Whether you're shipping locally or exploring new markets, our comprehensive logistics network ensures reliable and timely deliveries, regardless of the destination. From coast to coast, trust Senpex to get your products where they need to be, forging the path to success.
"The Senpex All-In-One Smart Ordering Dashboard is a game-changer in the industry, providing businesses with unmatched control and efficiency in their delivery operations," said Anar Mammadov, CEO of Senpex. "We are proud to offer an array of innovative features and services that simplify logistics management, boost productivity, and exceed customer expectations."
Experience the future of delivery operations with Senpex's All-In-One Smart Ordering Dashboard. To place an order, learn more about our services, and start optimizing your last mile logistics processes today
About Senpex Technologies
Senpex is a leading provider of last-mile logistics solutions, offering businesses a fully-automated dispatch system and a network of over 8000 couriers. Senpex's mission is to help businesses optimize and scale their logistics operations while providing customers with a seamless delivery experience.
Media Contact
Company Name: Senpex
Contact Person: Anar Mammadov
Email: Send Email
Country: United States
Website: www.senpex.com